*I am keeping my website open until I sell the rest of my inventory...HURRY as of March 3, 2011 my supply is getting low! ( please contact me and I'll let you know what I have in my inventory...THANK YOU!)
ALL of my remaining CLACKERS I am selling for $35.00 a set with $3.00 shipping! (if you want them shipped priority mail it will be $5.00 shipping)!
They are not in the original packaging, I have taken them out to inspect the Clackers to make sure they had no cracks...They are all in *EXCELLENT* condition! Email me at rodswmo@hotmail.com and I'll let you know what colors I have left.
Thank you and God Bless...I have met LOTS of AMAZING people while running this site and I THANK them ALL for helping to
SUPPORT OUR TROOPS!
My shopping cart is not working...please email me if you are interested in a set of Clackers, I have only a few select sets left!
These are Vintage Popper Knockers...NEW old stock made in 1970 with the ORIGINAL packaging! They are not in the package because I took them out to check them to make sure they were in Excellent condition, but I will be happy to send the original packaging with your purchase upon request.
Last updated

Also Please visit our
2nd website at:
http://www.zibbet.com/teresozarkbowsandstuff
*
These are the same Clackers that have been seen on DRAKE and JOSH! Also, the same as seen on VH1...I sold them 2 sets of mine for the show!
THESE MAKE GREAT

UNIQUE

GIFTS!!!
I have sets that are in Excellent condition that are NOT in the packages, but I do have the ORIGINAL packages and will be happy to send it with your purchase upon request!
Click on the Paypal Shopping Cart below to order via Paypal.
Popper Knockers / Clackers in Excellent condition $35.00 a set + shipping!

SPECIAL SALE...$35.00 a set + shipping, the sets I have left are NOT in the original packages but are in Excellent condition!!!
* Notice of Disclaimer...
I am not responsible for any injury that might result from playing with these...they should be used for collectors items only.
These are in the ORIGINAL

POPPER KNOCKER

Shipping will be combined at a discount for multiple purchases.
(color shades of the balls may vary slightly because the manufacturer didn't always match them perfectly)

Also Known As!!!
These were also known as Klick-Klacks, Whackers, Ker-Knockers, Whack'os, Bangers, Poppers, Knockers, Bonkers, Clack Clacks, Crackers, K-Nokkers, Knockers, Mini Poppers, Rockers, Super Clackers, Quick Klacks, Quick Clacks, Quick Wacks, Wackers, Whak Kos, Zonkers and various other names.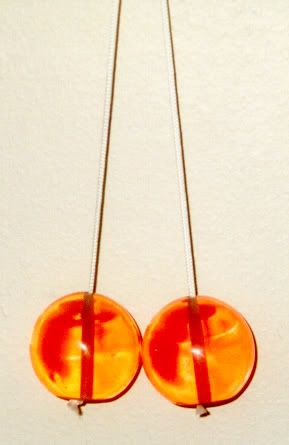 PEACH


WE are Rodney and Terri Edwards...we live here in Southwest Missouri (South of Joplin), where we own and operate a machine shop that specializes in prototype and one of a kind parts.

Rodney also does British motorcycle restoration and also has a pretty large collection of British bikes, including 5 Nortons, 3 Triumphs and his pride and joy a Royal Enfield Indian.
We have two children, a daughter, 28 yrs. old, whom was married in October 2001, Her husband is in the AIRFORCE and they live out of state with our "grandchildren" their 4 cats and 2 dogs.
Our youngest child, our son Rodney left for the Navy in May 2001...only 3 days after his high school graduation...he is now 26 yrs. old, he is stationed at Little Creek Naval Base, Virginia with his wife Kristy and 2 children, Noel age 2, Rodney III age 1 and 2 step-children Jonathan age 7 and Ava age 5.
Rodney is a NAVAL INTELLIGENCE SPECIALIST currently (6/2009) deployed to Iraq.
Here is a pic of Rodney's little girl & Our PRIDE & JOY!!!
...Noel/6-2008

Noel 1/2009 (Ma-mah's Girl)
Rodney III 12/2008 (Ma-mah's Boy)
Please Keep Our SAILOR Rodney (Poe) Edwards in Your PRAYERS!


Search Engine Optimization and Free Submission